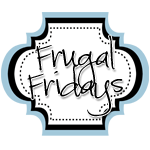 I can't believe I'm doing blog hops already when I don't even have my blog the way I want it, but I figure maybe someone will stop by & offer me some suggestions and/or it'll make me get on top of it faster lol
I decided to try the Frugal Friday Hop because I'm a tightwad at heart. A while ago, my mom got me one of those books '101 Ways to be Cheap' (or something like that) and all my 12 year old son says when she showed it to him is, "Oh my mom knows more ways than that to be cheap".
Well, my husband is asking me to get off of his lap top so I better listen. I guess I'll be blog hopping after I catch some ZZZZZZZZZZZs.