I'm fairly new to the mom blogs, but wow I keep seeing Rockin Green Cloth Diaper detergent coming up in reviews & giveaways. I know many people who use cloth diapers swear by Rockin' Green detergent for their diaper laundry, but I kinda have my cloth diaper laundry under control right now. I mean in the beginning I started getting the ammonia smell coming from the wet diapers for a while, but it's gone now. I rinsed (& rinsed & rinsed) the ammonia buildup out of the diapers & then found that once I stopped adding vinegar in the rinse the ammonia smell went away. I've heard other people say they had to add vinegar to their rinse cycle to perfect their diaper laundry routine. I guess it just depends on your machine, the soap you use, your water, or some combination of all of the above.
I've changed my wash routine a few times, but for now what's working for me is using a dry pail method, a diaper sprayer, making sure that I only use a little bit of soap, and a simple hot wash cycle with an extra rinse,. When I change baby's wet diapers they go straight into the diaper pail. When they're poopy I put them in a small plastic tub & when I have a moment I take it to the bathroom to use the BunGenius diaper sprayer (that I found on craigslist & installed myself) to spray the poop off. On wash days I dump the diapers in the old sink by my washer & give them a quick rinse while I'm starting a hot wash cycle, set with an extra rise & extended spin. I use a very small amount of "free & clear" detergent (to first line). I do wonder if that small amount of brightener that some "free" detergents use really is all that bad for covers & AIOs over time hmmmm
So I'd like to go out and buy a bag of Rockin Green, but with all of the current Rockin Green Giveaways out there right now I'm really hoping I'll win a bag to try haha I didn't win the Three Ps in a Pod Rockin Green giveaway that ended the other day, but there's still a few more Rockin Green giveaways that are still open. And more popping up all the time. Who knows, maybe I'll win one of these!? Check out some Rockin Green giveaways here...
Diary of a Devil Dog Wife "Funk Rock" giveaway ends 1/19
Real Mom Reviews ends 1/19

Leaves of my Tree ends 1/22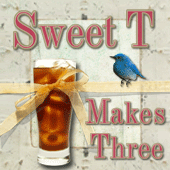 Sweet T Makes Three ends 1/25